Huffines: True to Founder's Ethic
by Laurence Iliff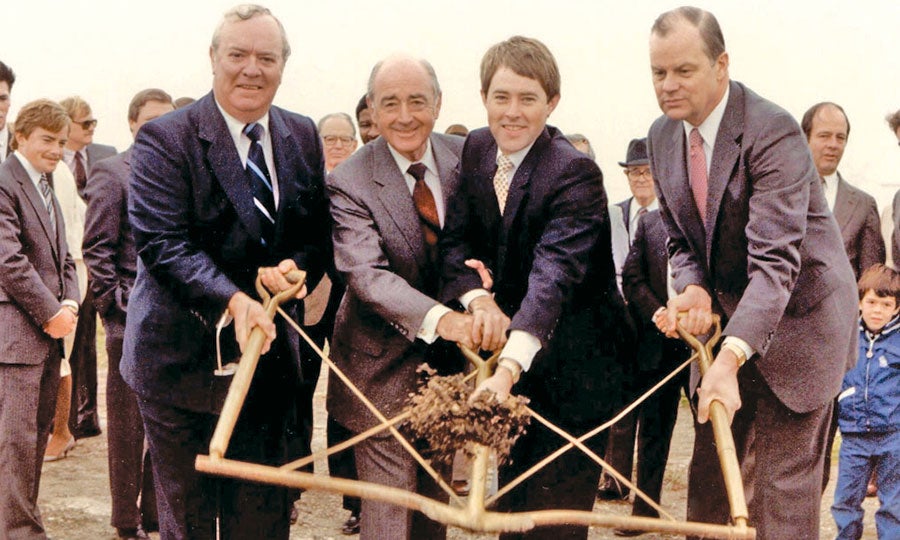 "Many years later, I was telling that story to someone, and my dad was sitting there, and he says, "Well, that wasn't an accident,'" Huffines said with a big chuckle. His dad had arranged to shave some muscle from the car.
Huffines Sr., whose full name was James Lecil, established his first dealership for Willys-Overland in 1924 in Denton, Texas, after working in a small garage.
One day, a banker from Lewisville bought a car from Huffines, who was only in his mid-20s at the time, and was impressed enough to partner with him for a Chevrolet store in Lewisville in 1927.
Huffines' only child, J.L. Huffines Jr., grew up in the car business and got his own Chevrolet dealership in Commerce, Texas, in 1950 before selling out to his partner and taking over the Lewisville Chevrolet store when his father died in 1972.
Ray Huffines has three brothers, but he says he was the only one who showed a keen interest in the family business.
"I started off in the shop being like a mechanic's helper one summer, and then I went to the parts department and stocked in parts and drove the parts truck, and worked the counter, so just kind of worked my way up," he said.
In 1984, Ray Huffines got his own Chevrolet dealership in Plano and started to grow the company. Two years later, the group acquired the Chrysler-Plymouth franchise in Plano and the Dodge franchise in Lewisville.
The group now has two Chevrolet, two Chrysler-Jeep-Dodge-Ram, two Hyundai, two Kia and one Subaru dealership in the greater Dallas-Fort Worth area.
Succession has gone smoothly, partly out of circumstances that prevented a tug of war but also through planning.
J.L. Huffines Jr. sold his shares to his children before his death in 2009, which made things go smoother, said Ray Huffines.
Ray Huffines' son is now involved in the family business after being told he had to begin outside the local market, which he did, in Houston.
And now, one of his three daughters is showing interest in making the family business her career.
"My goal is to see if we can't pass it down to a fourth generation," he said.
Keeping it in the family means keeping it true to his grandfather, who was active in the community and known for his reputation as a straight shooter, says Huffines.
"Honesty, integrity, community involvement and loyalty to our customers and to our team members has always been important. We don't have to answer to stockholders, and so we can take a long-term perspective. We can do things that can make more money for the short term, but it could hurt our reputation.